Unbeknownst to us, Arizona Daily Sun Sam McManis reporter got out for a trail run at the Nordic Village recently. Enjoy this fun feature (also copied/pasted below) where McManis highlights that snow (powder) isn't the only way to enjoy the forests and meadows of the Nordic Village. The best part –  trail and facility access is free outside of our winter season, and you can come and use the trails anytime! Trail running at the Nordic Village has many flavors, from smooth and open roads to technical, winding, and steeper single track. Check out the trail descriptions linked to on our Trails & Conditions Page for more information, and you can always drop into the Lodge to pick up a free paper map to go! Booking a yurt or cabin is a great way to wake up with all these trails in your front yard, and you can even get a shower in the Lodge or new Restroom Trailer to wash off that trail dust!
Enjoy the dust, not the powder, at Nordic Village in fall
Normally, I steer clear of trails primarily meant for purposes other than running or hiking. No offense, or anything, but mountain biking-specific trails with their goofy names and crazy dips and swirls seem a tad gimmicky and artificial, best left to those on two wheels.
Same for running on cross-country skiing courses.
OK, admittedly, before moving to our fair mountain town, the only Nordic trails I had traversed had been at Lake Tahoe and in the Cascades of Washington state. They were, in a word, boring. Don't get me wrong, they were exceedingly well-groomed and well-marked trails and all that. But they were usually short, pretty much flat and wide, bereft of shade and interspersed with way too many junctions with other paths
Which is fine, perfectly acceptable, if you realize the trails were not built for runners and hikers.
And that type of layout is what I expected when I took Highway 180 north to the Arizona Nordic Village. In a couple months or so, the place will be packed with cross-country skiers shushing along the packed down powered paths and snowshoers plodding with impunity — its intended purpose.
But, in off-season, Nordic Village opens its gates to the rest of us.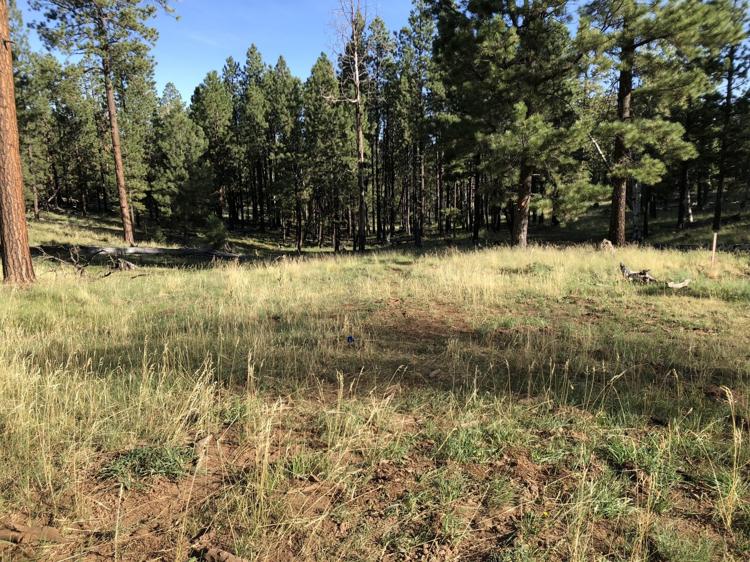 Imagine my surprise to be greeted one recent morning with a set of trails replete with ponderosa pines and aspen stands, challenging hill climbs up to 8,800 feet, just enough verdant meadows to break up the forest hegemony and enough trail options to let you run long or short.
Flagstaff's trail running community has put its stamp of approval, as it were, on Nordic Village as a legitimate running venue. The aptly-named "Gaspin' in the Aspen 15K" draws hundreds each August, and ultrarunning impresario Ian Torrance earlier in the summer launched the inaugural Parhelic Circle 6-, 12- and 24-hour endurance run on hamster-wheel loops of the village.
Consider Nordic Village, then, a sort of "Choose Your Own Adventure" experience, with up to 16 miles of trails to wander down, some as short at 0.3 of a mile, others as long as 4 miles. Some are well-groomed fire roads; others single- or double-tracks; some so faint as to be unrecognizable without the omnipresent directional signs to lead you.
About those signs: They can be a little overwhelming. At the main trailhead, by the office, arrows point every which way to trails and the yurts that dot the meadows. Look at trail names right next to the parking lot, and it seems as if the Basalt, Look and Babbitt trails all go in the same direction. Wait, and there's the Dog Trail sign nearby, and one for the Black Bear Trail, too. And one more: for the Cinder Trail on the left.
A guy can become paralyzed by a surfeit of choices.
Do not fret. All is revealed on a detailed, color-coded U.S. Forest Service map nailed to nearly every directional post at major junctions. My suggestion: Take a smartphone snapshot of it and carry it along. But, if you are an ascetic and eschew technology, the signs pop up enough along the way to keep you from getting lost.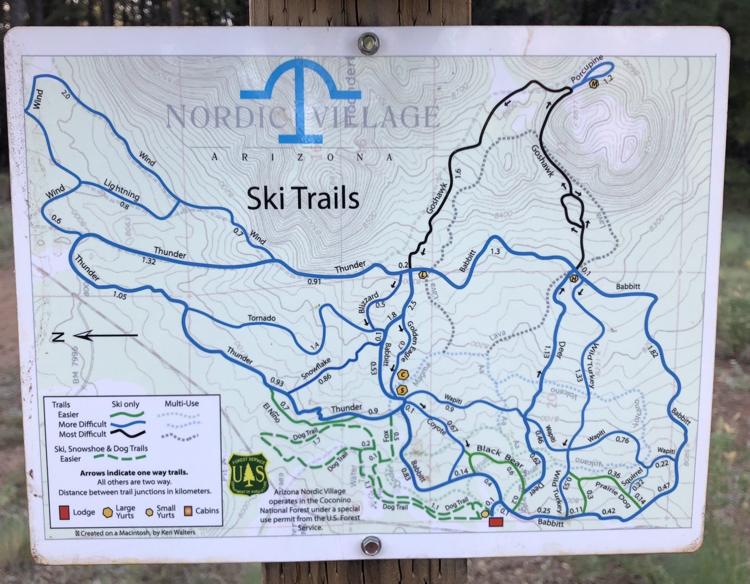 The trails are divided into "ski only," "multi-use" and "ski, snowshoe and dog trails," with the mileage for each labeled.
On this day, I was looking to run about 8 miles with a few significant climbs to break the monotony.
So I charted this course:
• Head south (parallel the parking lot) on the wide Babbitt Trail, which gradually curves east and climbs for a little more than 2 miles.
• Turn right to the Goshawks Trail, a 1.6-mile uphill and downhill trek on mostly doubletrack with decent footing.
• Turn right at a junction onto the Thunder Trail, which is mostly downhill and loops around after passing several side trails that either add or subtract mileage but eventually get you to the same point.
• At the junction featuring no less than six directional signs, turn right on the Babbitt Trail and follow it slightly less than a mile back to the lodge and the main trailhead.
Do not be distracted by the many offshoot trails. On the first section of the Babbitt Trail alone, there are five. One such trail, Wapiti, just looks like a faint outline in the grassy meadow between the pines, but eventually it becomes a "real" trail that meanders more than two miles and dead ends at two yurts.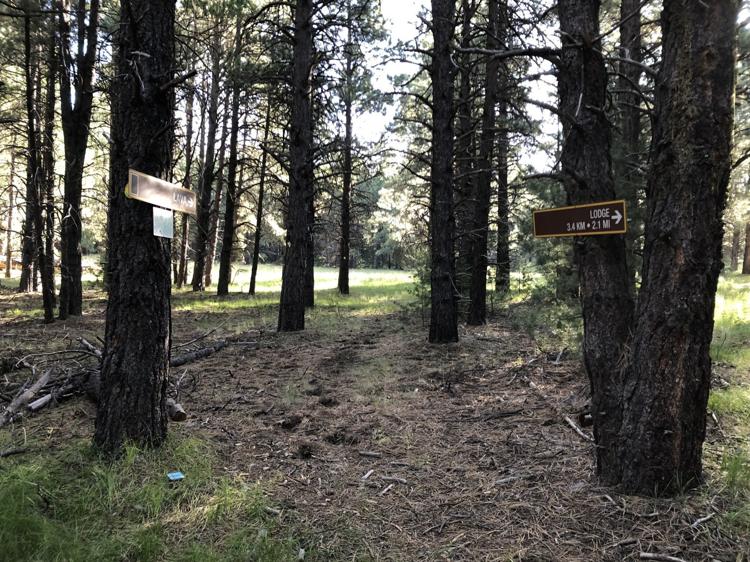 Those seeking shade and mini-forests of ponderosa and aspen will enjoy the Goshawk and Thunder trails. Actually, the Thunder provides a little of everything: big trees, verdant meadows, both uphill and downhill and a slog through the faintest of trails thankfully delineated by tiny blue ribbons to show the way.
It's only at the start of the Babbitt Trail and the middle part of the Thunder Trail that you can hear the traffic roar by on Highway 180, a pet peeve for those seeking the illusion of solitude. The rest of the trip seems secluded. In fact, on a Sunday morning, I saw nary a soul on the trails, even though there were several camping groups nearby.
So, after this pleasant sojourn, I'm rethinking my view of cross-country ski resorts in the dry months. It makes sense to put the trails to use before the snow comes and transforms the area once more into a winter wonderland.